blog, crypto, futurism, newsletters, philosophy, politics, reflections, review, science, startup, venture capital
Build myths around alumni founders
European universities need to build founding myths around alumni startup founders. No myths, no aspirations, no inspirations for our next generation.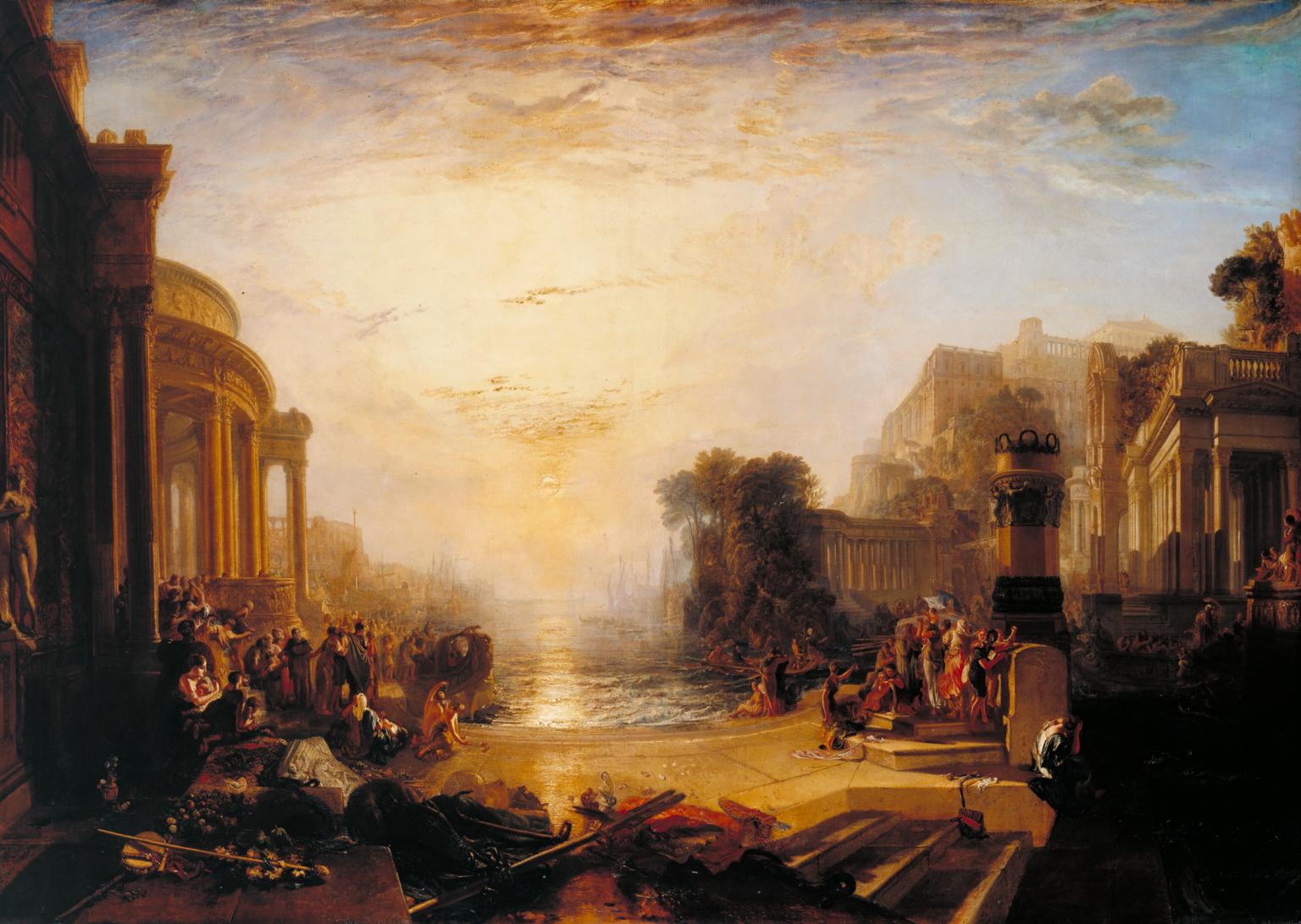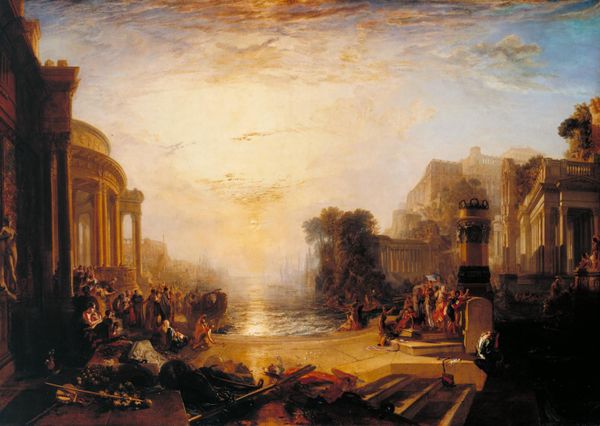 Silicon Valley has the Paypal Mafia.
Do we have a European equivalent? You might point at the Skype mafia and the growing fintech mafia.
The Valley also has the Stanford Mafia. And the Berkeley Mafia. On the East Coast, there is the Harvard Mafia.
Do we have the equivalent Oxford Mafia? Can you name the Cambridge Mafia?
<Silence>
---
We can easily name Oxbridge alumni who are Prime Ministers, Parliamentarians and scientists. But it takes a while to recall any notable Oxbridge-educated startup founders. And this problem is not exceptionally Oxbridge either. We have plenty of exciting rocketships in Europe. And we have 'unicorn universities' throughout the continent that tops the global ranking for wealth creation per capita. For example, INSEAD ranks 2nd in producing unicorns and future unicorns. However, can you name the INSEAD mafia?
These mafias do exist. Alumni networks do cluster. However, no one has built myths around them.
This is a European problem. Even worse, it is a symptom of secular modernity.
I am a founder who currently studies at the University of Oxford. I have felt that building is a lonely journey. Building as an undergraduate in Oxford is rarer. Building without an aspiration to look up to is even harder.
We need to build founding myths around alumni startup founders. Even the Lone Genius needs to be inspired by a greater Lone Genius.
What I am about to tell you:
The Oxford Mafia does exist, in three generations. You heard from me first.
The Oxford Mafia
Yes, we do
1st Generation
From 2004 - 2006, Tom Blomfield, most recently co-founder of Monzo and GoCardless, started Boso.com. Boso.com was a marketplace for students in the UK. They scaled it "to around 50 universities across the UK" within two years. While Tom claimed to fail to raise any money, his co-founder, Kulveer Taggar said that they have raised $350k from angel investors.
In 2007, two other co-founders of Boso.com, Kulveer Taggar, and Harjeet Taggar, got into Y-Combinator's Winter 2007 batch. The Taggar cousins also graduated from Oxford. Kulveer studied PPE at St John's College while Harjeet studied Law. They pivoted into building Auctomatic.com, an online auction tool. However, Tom did not attend YC as he had to take his final exams. While at YC, they teamed up with Patrick Collison (now founder of Stripe).
A year later in 2008, They sold Auctomatic for $5 million dollars. Kulveer Taggar is now the founder of Zeus Living, an operator for high-end furnished homes ready for living. Harjeet joined Y Combinator as a Partner in 2010, left in 2015 to found Triplebyte, and joined YC as Group Partner in 2020.
2nd Generation
In 2011, after graduating with a Master's in Law from Oxford and working at the consulting firm OC&C, Tom founded GroupPay with Hiroki. Hiroki is a fellow Oxford graduate. He previously interned at Boso.com and Auctomatic. They got into YC's Summer 2011 batch. GroupPay became GoCardless. Tom helped grow to a team of 35 staff and a valuation of approximately $40 million before leaving 3 years later. After several stints, Tom founded Monzo in 2015. It is a digital challenger bank with 5 million users.
Another co-founder of GoCardless, Matt Robinson, also an Oxford graduate, founded Nested, a property technology company. Nested's alumni? Taimur Abdaal builds Causal, which is a challenger to Microsoft Excel.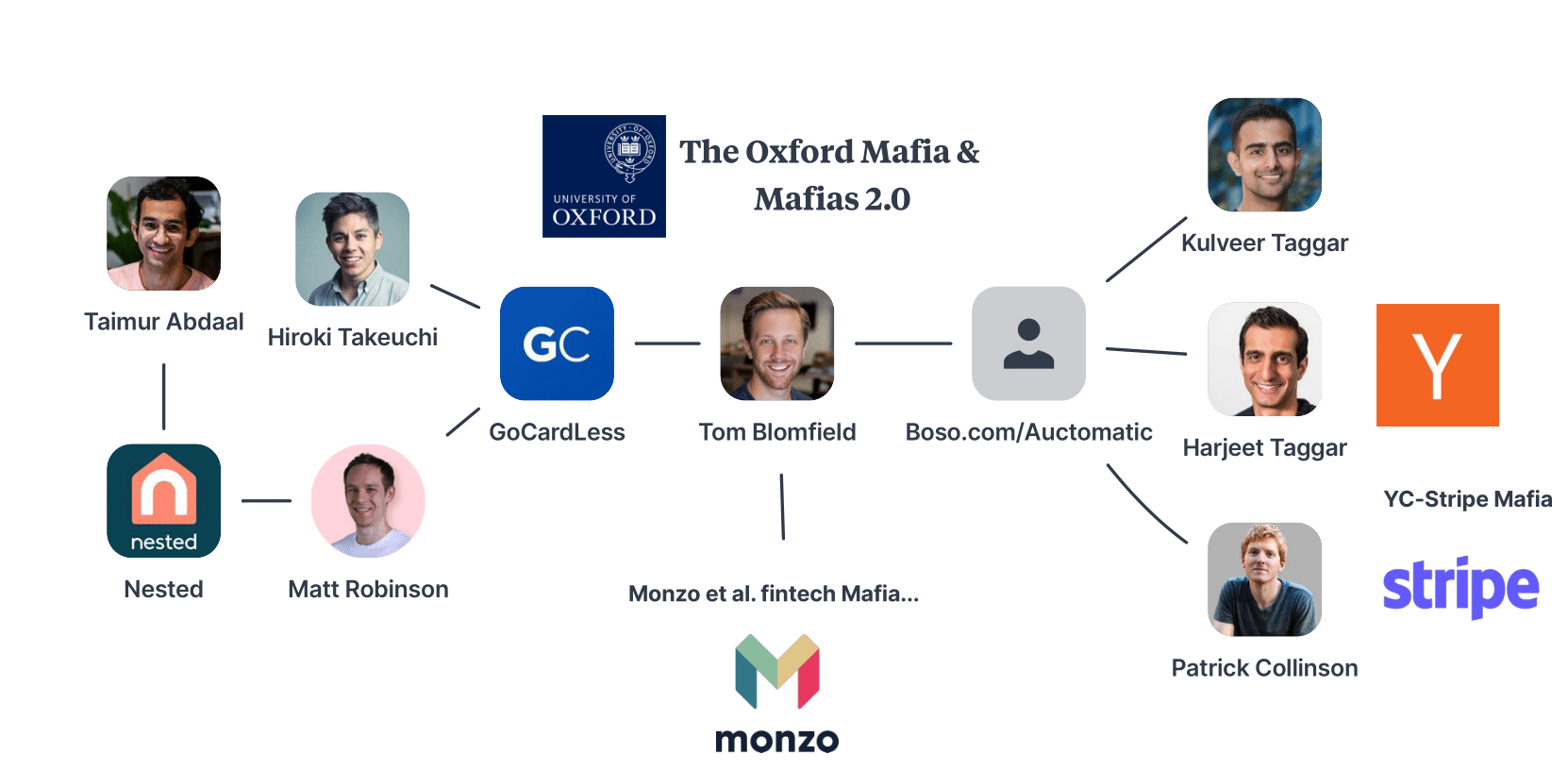 3rd Generation
In 2012, Husayn Kassai, Eamon Jubbawy & Ruhul Amin founded Onfido, an API for identity verification.  
In 2017, Jamie Cox (Classics) and David Hsu (Computer Science at St Hugh's) started the payment app Cashew. They got into YC's 2017 batch. Jamie also dropped out and became a Thiel Fellow in 2018. Another Oxford Thiel Fellow is Nicholas Shekerdemian. He started Headstart, which was in YC's S17 batch. Headstart removes biases from the recruiting process.
In YC, David pivoted into building Retool, a no-code product to build internal tools. Retool just raised their $20M Series C. After Cashew, Jamie teamed up with Gary Wu to build FluidStack, the Airbnb for GPU power. In 2020, Jamie and Gary started TreeCard, a planet-friendly debit card.
Others
Perhaps the OG of the Oxford Mafia is in fact Torsten Reil. He dropped out of his PhD in Biology back in 2001 to build NaturalMotion, a gaming development company. It was sold to Zynga for $527M in 2014. Now, Torsten founded Helsing, an AI for national defense in Europe. They raised a $100M Series A round from Daniel Eks, founder of Spotify. Helsing's culture feels like Palantir. So if Torsten you are reading this and you also want to find out the networks of Oxford founders, supply me with a product Gotham-like.
There are also clusters of Oxford-educated founders that I do not have the bandwidth to figure out their inter-connections.
.....But no one knows them!
The network of Oxford-educated founders does exist. However, students do not know them because:
founders themselves do not wear Oxford as a badge of honour (compared to their Stanford/MIT/Harvard-educated counterparts)
Oxford sucks at alumni engagement
Let a Thousand Myths Prosper
The Revolutionaries of the 21st Century do not wear military uniforms, ride horses, or work in factories. They code.
The path to power is technology.
The 70-year-old white men in the Situation Room will soon be replaced in one way or another. The 'old boys' network has died. The new power network has risen.
Oxford needs a founding myth with Oxford characteristics. Likewise, Europe's 'unicorn universities' need founding myths with European characteristics.
For our young undergraduates, we need to reinvent the myth of a 20-year-old ambitious founder. We need to inspire hordes of undergrads with shells of ambition but empty in content. We need myths for the Rebellious Intellectually Curious Hustlers (RICH).  
Stanford has branded its Symbolic Systems major as a pipeline to tech. Oxford can rebrand its Philosophy, Politics, and Economics degree from an (expired) passport to power to a community of proper builders, not LARPers. Cambridge can brand its Natural Sciences as a pipeline to become deeptech founders. European universities like INSEAD and Technical University of Munich (TUM) can focus on their specializations.
Universities themselves will not take action. They are vestiges of the dying era.
We need the recipient of myths (i.e. students), the creator of myths (i.e. the Media Complex), and the subject of myths (i.e. founders) to work together.
Build a culture that builds.  99% of Oxford students are self-entitled, complacent, and lazy. Root cause: the Oxford zeitgeist that affiliation to power is the possession of power.
Instill mythic morals. Teach our next generation to create value, not to capture value.
If you are an Oxford alumni founder, here is how you can build myths:
10x founders build their own world. Start with your alma mater. Build a strong talent pipeline. A strong national brand takes decades. A strong campus brand takes months.
If you always snap up the best engineers from Oxford, congratulations. You have built a monopoly.
If you are a student, go pursue your passion. Be proud that you are a fierce nerd..
Go forth and multiply!
---
My views are biased.
Here's why: I run OX1 Incubator, a public good in Oxford that onboards 100+ students into the startup world. I also started a hacker house here, the first of its kind.
You never change things by fighting the existing reality.
To change something, build a new model that makes the existing model obsolete
― Buckminster Fuller